Today I'm going to share with you my family's second annual North Pole Breakfast. This was a big year for our breakfast because, not only did I keep up with a tradition, but our Elf on the Shelf made his grand debut.
I planned our party for the day after Thanksgiving.
Each of my kids had a festive place setting complete with fill-in-the-blank letters to Santa and special gifts. The gifts this year included a book; a coloring book, crayon and sticker set; paint with water; socks and a rubber duck (one was Santa the other a reindeer). We also received family gifts of a new Christmas movie (Prep and Landing) and Christmas Book (Oh, What a Christmas).
I made another Magic Mailbox this year. Inside was a letter from Santa reminding the kids to be good and asking them to fill out their wish lists.
The letter also talked abut the special kisses we all received. The large candy cane kisses were from Mr. and Mrs. Claus. We then had eight brown kisses (chocolate chips) from the reindeer, one red kiss from Rudolph and three green kisses from the elves.
To eat we had Reindeer Hash (hash browns, eggs, ham and cheese in the crock pot),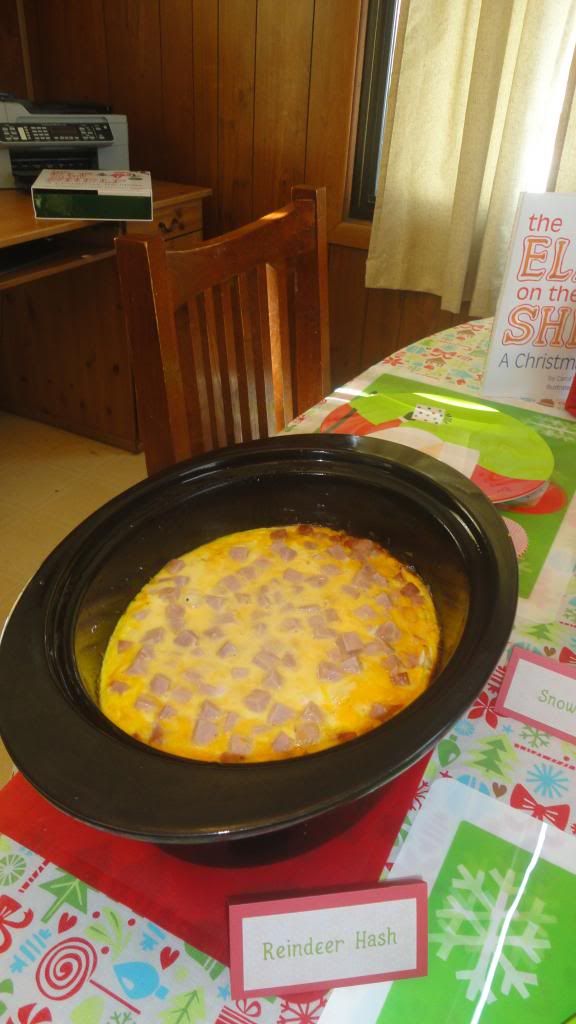 Snowballs,
Santa Belly Parfaits (vanilla yogurt, strawberries, granola and sprinkles),
and Candy Cane Milk (if you leave a candy cane in milk they start to dissolve and turn the milk pink).
I also set up a hot chocolate bar. My kids had a blast with this.
To add some festive detail I made this banner. I wanted it to say "Believe" but I didn't have enough "E's"! So "Wonder" it is!!

I hope you enjoyed this look at my families North Pole Breakfast 2012!