As promised here are the details of one of the cards I posted about during the K. Andrews, Getting Cricky, link up party.
This card is made with Graphic 45 paper.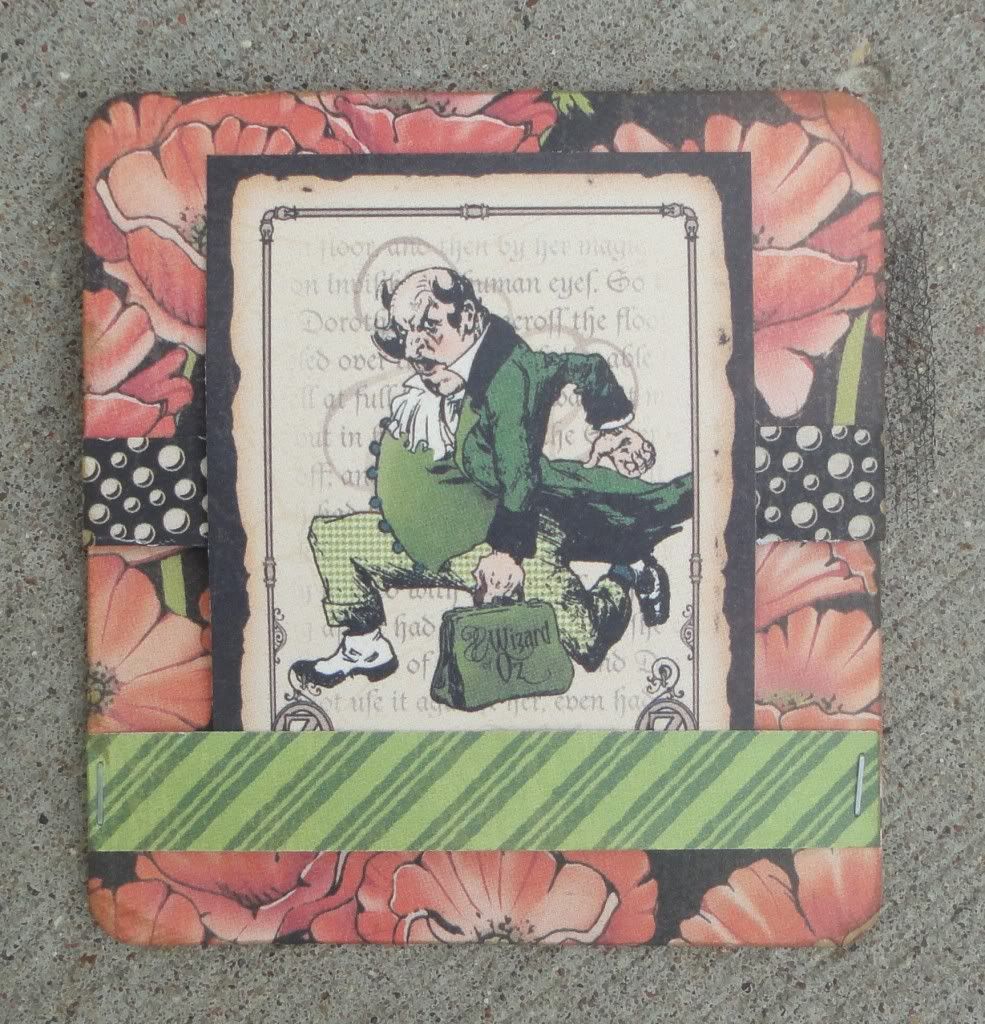 Start with a double sided piece of 3.5" x 9" cardstock
Score (or fold roughly) at 1/2, 2 1/2 and 6 1/4
Fold the 1/2" score up exposing the back side of your paper and glue
Fold at the 6 1/4" score to create a pocket
Take a 3 1/2" x 1/2" piece of paper and place it about a 1/2" from the bottom of your pocket
Using the Tim Holtz tiny attacher, staple your strip in place while also securing your pocket
Staple at the top of your pocket also
Take a piece of cardstock roughly 3" long by however wide you would like (mine is 2 3/8")
Apply a strip of glue on the very top edge of your card only and, with the card closed, position so the bottom of your card will be behind the strip.
Close the card and round the corners
Now that your pocket is done, stamp on a tag, add some ribbon/tulle/twine/etc, round the bottom corners and ink the edges.
Simple and beautiful. This would be great for gifting gift cards.
I'll have the details of the other card for you tomorrow. Until then I'm off to continue participating in the
MyScrapsAndMore.com
October Sketch-a-thon. Every week day this month Tammi and her DT are posting sketches and challenges in the forum with a chance to win some beautiful collections of paper including BoBunny "Forever Fall", Fancy Pants "Oct 31", MME Lost and Found 2 "Rosy", Bella Blvd "Too Cute To Spook" and October Afternoon "Sidewalk". Individual challenges may have prizes associated with them too along with some fun games. Make sure to check out the blog too. Every Thursday Tammi posts a sketch. You have all month to finish them. The first sketch of the following month a winner will be drawn for a fabulous paper collection. My Scraps and More is a smaller community that's very welcoming and fun. I invite you to join us.
Challenges:
Frosted Designs
- Fabulous Friday - Recipe Challenge (yellow (my shade is very muted), ribbon, ink, flowers)
Ribbon Carousel
- Anything Goes
Wee Memories
- Fav Technique (inking or fun fold cards could be considered my fav technique (love both))