Welcome to the Scrapbook Room Reveal Blog Hop!
Don't you just LOVE seeing where other crafters create? and get ideas for how to organize your own space? I know I do!
We hope you will join us this weekend and take a peek into our craft spaces. Our hostess Cicily, at www.PinkDalmationScrapper.blogspot.com has a couple of great prizes to those who take the time to check out our spaces!
This is my scrap room.
I share the space with a bed and play space for my children. My little corner ends up being about 6' x 8'.
Since signing up for this hop I took the opportunity to really make this room exactly what I wanted it to be. So I want to thank Cicily for hosting this hop and having me be a part of it. IKEA also thanks you!
This is my desk. I try to keep very little on it so I have plenty of room to spread out the supplies I'm working with at any given time. My desk is from IKEA. It's one of those where you can pick your top and leg combination. I love this frosted glass top. It has a small elevated edge around it so things don't roll off. It's also great for lining up my layouts and making sure things are straight.
As you can see I keep my Cricut and Gypsy on my desk. My gypsy is sat on the Creative Cutter Room exclusive bow maker (love that thing too!). I also keep my ATG and my giant can't-live-without Tonic paper trimmer along with a small notebook.
I love this wall and how it's organized! At the top is a curtain rod (from IKEA). I purchased rings with clips to go on the rod and hold all of my random embellishments. I'm the kind or person who likes to see everything that I have, so this is perfect for me.
The silver rod below the curtain rod comes from IKEA's kitchen department. I purchased 4 cups that clip onto the rail. They hold markers, glue, everyday tools (ruler, scissors, bone folder, etc) and misc. The open spot is for a hanging basket the IKEA offers but was out of when I bought the system. I'll use it to store my glitters, mists and liquid pearls.
My Cricut mats and Lawn Fawn stamps are simply hung on the wall with nails.
This is how I store my paper. I use the craft cubes from Michael's. My paper is organized by collection. I also have a slot for 8.5" x 11"; mat stacks, 6" x 6"; scraps that need to be trimmed, solid 12" x 12" and patterned-but-not-part-of-a-collection 12" x 12". The Sterilite drawers have my ink, clear blocks and Tim Holtz stuff in. The gray IKEA drawer unit holds my adhesives, embossing folders and dies, paint, heat gun and a lot of random stuff that I really should just get rid of!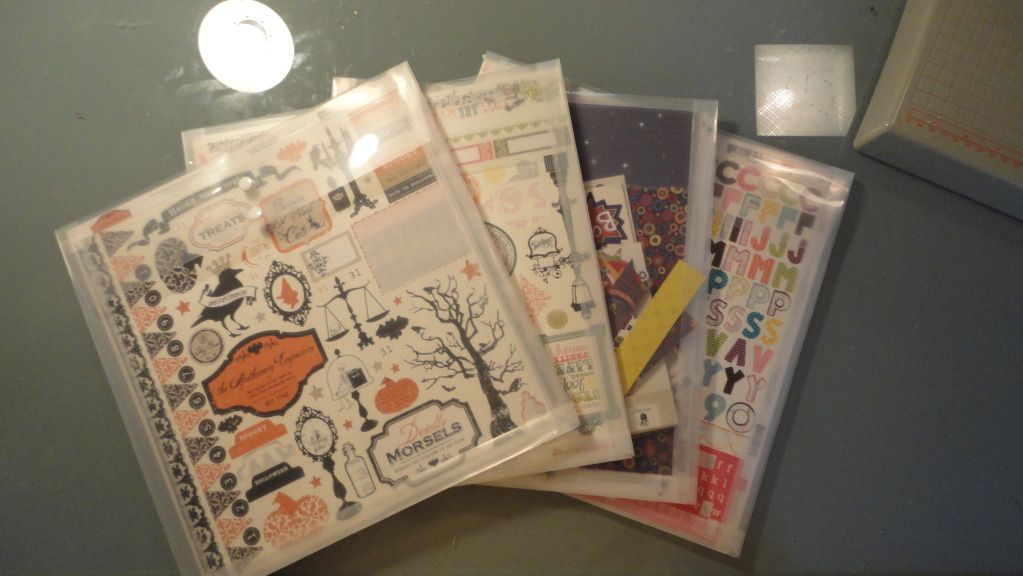 I put all of my collections together in these 13" x 13" plastic envelopes. I include all the matching embellishments and any scraps I might have after completing a project.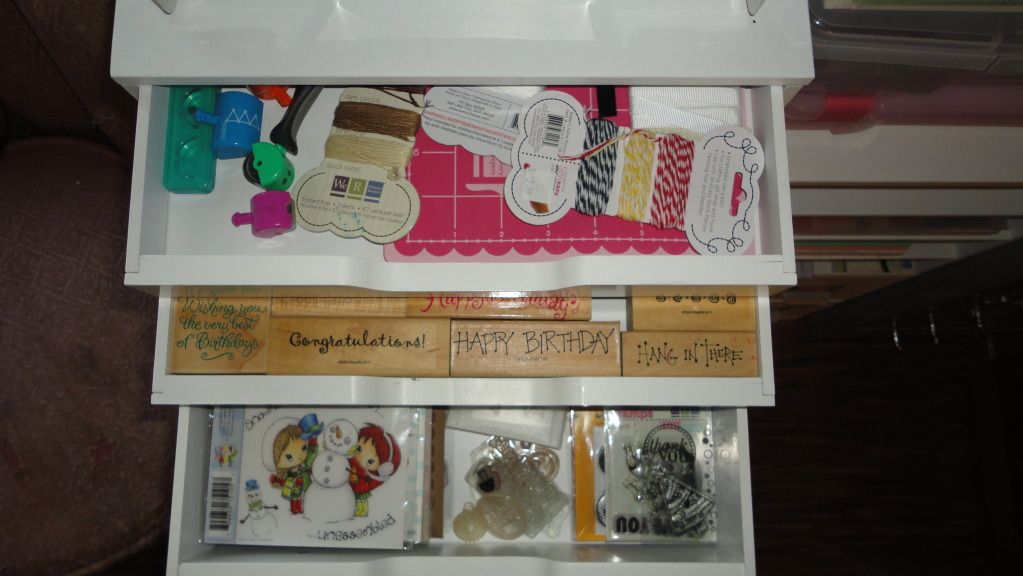 In the three-drawer unit I have my clear stamps, wood-mount stamps and all of my Sew Easy, Sew Ribbon and Sew Stamper stuff. I would NOT recommend this cube to anyone. The drawers rest on top of each other making it really had to pull just one out.
The four-drawer unit holds my ribbon. I would recommend this cube. The drawers move independently and are really deep.
I have four of these square plastic boxes that I use to hold similar items.. One of them holds all the my Disney stuff (paper, embellishments, memorabilia, photos, etc.). Another has everything Christmas. The pink one is baby/pregnancy memorabilia and the fourth box has class kits from last years ScrapFest (I really should finish these before ScrapFest starts this year).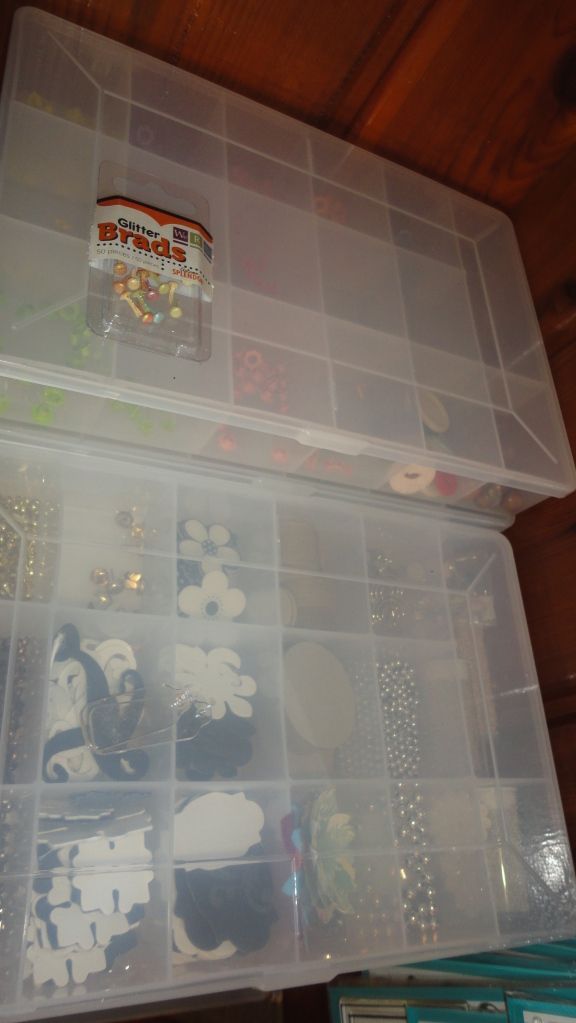 I use these small divided boxes to hold brads, eyelets, buttons, epoxy flowers, leather embellishments and other tiny embellishments.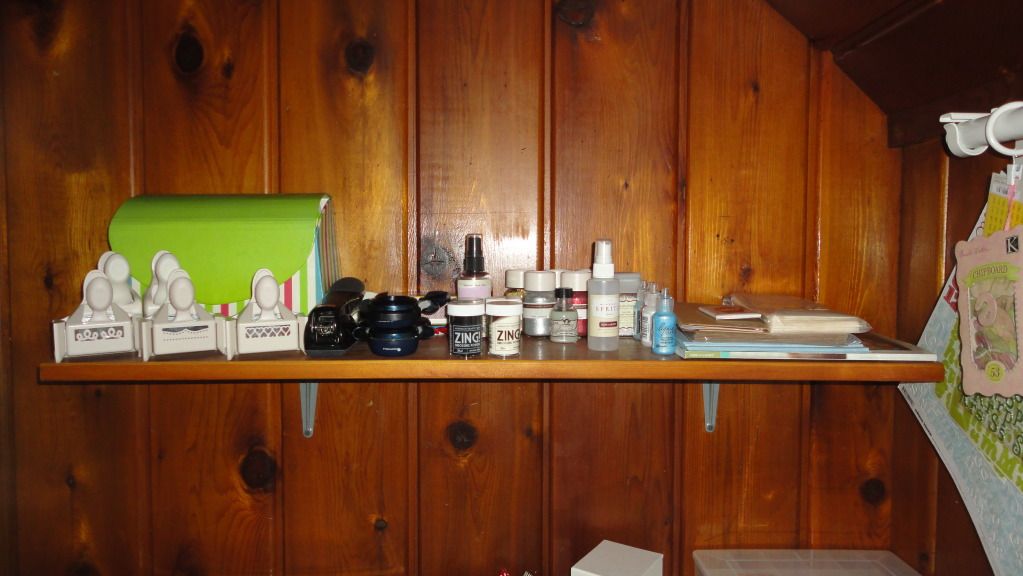 This shelf was in the room when we moved in. I use to for my card box, punches, glitters etc (until I can get my hanging basket) and inspiration material.
I do have a few smaller trimmers too. I store those between the pink chair that used to belong to my grandparents and the cube system.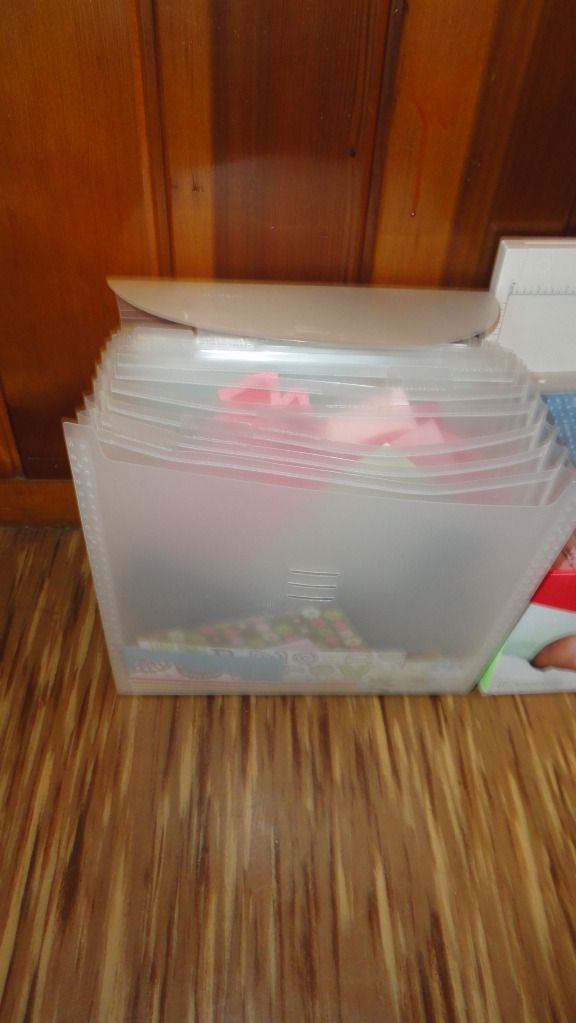 On the floor, next to my desk, is my scrap folder. I trim all my scraps down into rectangles and then sort them in this 12"x 12" plastic accordion folder (patterned, black, white, brown, red, pink, orange, yellow, green, blue, purple (and I still have some open space at the back)). If a patterned piece of paper is primarily one color it goes into that colors slot.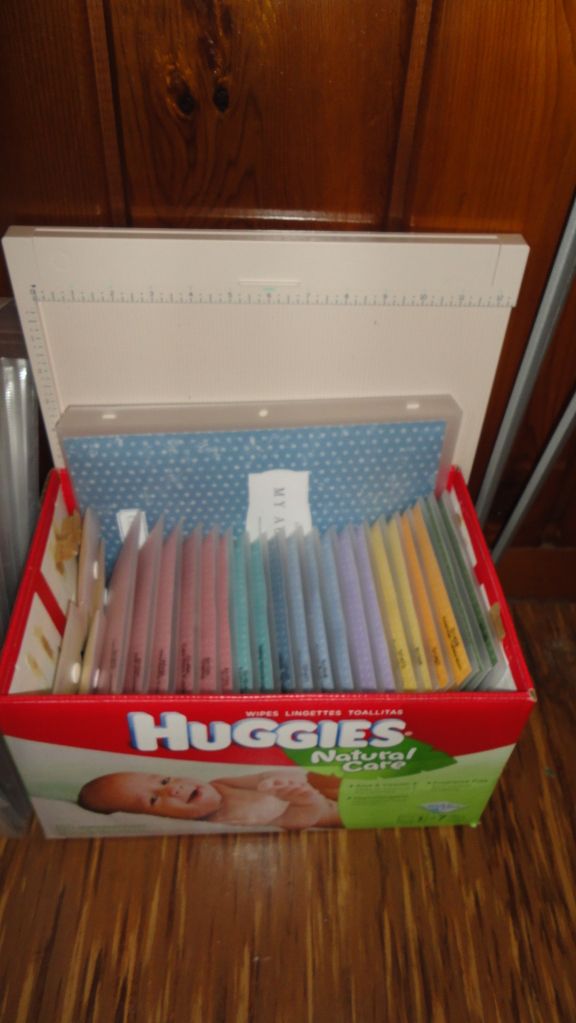 Next to that is my Martha Stewart score board and the Huggies wipes box hold all the Close To My Heart stamp sets until I can find something a little more aesthetically pleasing.
Thank you so very much for stopping by today. I hope I've provided you with some inexpensive and unique storage and organization options.
Your next stop is
Here is the entire hop, in case you get lost along the way!